Furniture Stores Get New Look in 2020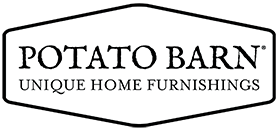 Potato Barn's three Arizona valley locations are getting a new look. Our unique furniture stores in Chandler, Mesa and Scottsdale will each have their own selections of unique home furnishings. What does this mean for you? Your furniture shopping experience is about to get a little more unique.
– Our Potato Barn Chandler location will be carrying a lot more one-of-a-kinds. Pieces will arrive here that no other furniture store here in the Arizona valley or across the USA even carries.
– Our Mesa store is planning to unveil a brand new look. This new furniture buying experience for shoppers starts early in 2020.
– And lastly, our Scottsdale store will be focusing more on custom and unique pieces that you are sure to fall in love with.
Stores receive on average 1000 new pieces a week. Have you stopped in to visit our family owned and operated furniture stores recently? If not, come check us out soon. You can find our store locations and contact information in Menu under Locations.